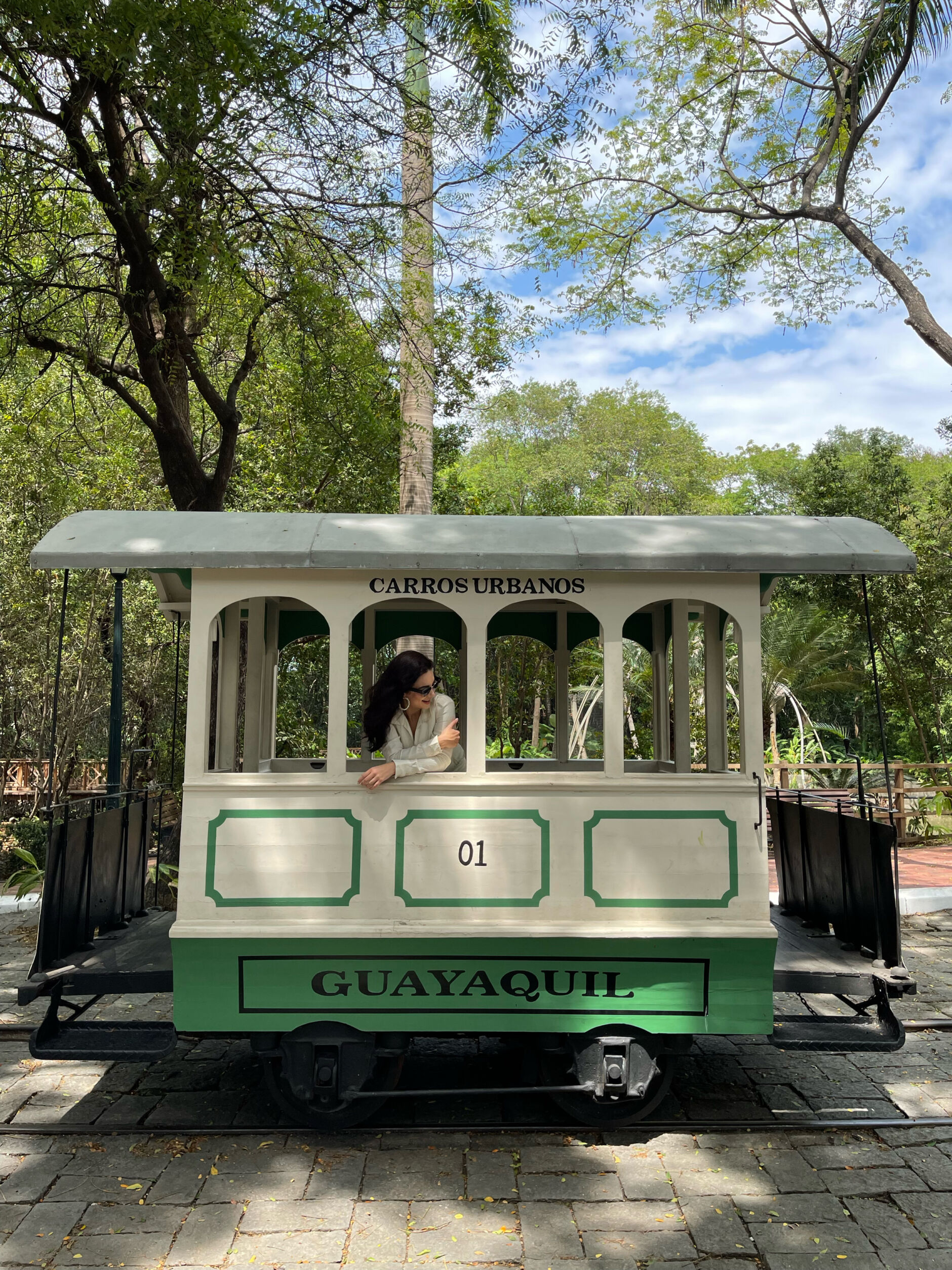 Guayaquil is the commercial center and the largest seaport of Ecuador. A vibrant city, growing ever more modern and versatile. Located in southwest Ecuador along the banks of the Guayas River, which flowers into the Pacific Ocean. 
Usually, tourists visit Guayaquil on the way to the beaches on the Pacific coast or the Galapagos Islands, but here I want to share a "compact" Guayaquil travel guide, where I'll cover the basics of how to get around the city, where to stay, and what's worth seeing.
How to get to Guayaquil from Vienna?
Best connection to travel to Guayaquil from Vienna is via Amsterdam. Flight duration, approx. 17hrs 15 mins with 1 stopover in Amsterdam, and one short stopover in Quito. Read HERE about my flight to Ecuador.
How safe is Guayaquil?
Guayaquil continues to own the reputation as Ecuador's most dangerous city. Most crimes involve the theft of goods, car theft and hacking, drug trafficking, vandalism, and housebreaking. I felt safe walking during the day in the city center, but definitely not at night. Despite that Guayaquil is the hometown of my friend whom I have visited in Ecuador, I felt safer to explore the city with her as a local, but I would be more cautious if I would visit the city alone.  
Whenever possible, use Uber or private taxi services, which often use black SUVs with tinted windows. If using a taxi, have your hotel call for you, and get a business card from the driver to contact them on your own as needed. The prices might be higher at night. However, you're at less risk of being robbed than if you hail the yellow taxis on the street. When walking around, stay aware of your surroundings to protect against pickpockets. 
So, is Guayaquil safe for tourists? Overall, yes. The bottom line is, as long as you are careful, nothing bad can happen. Precautions are ALWAYS needed in any large Latin American city.
What to wear in Guayaquil?
Guayaquil is a warm and humid city, so dress comfortably in summer clothes. In most places you can enter in casual looks. Bring light linen clothes with you, a hat with you, SPF, stay hydrated all the time and get ready to sweat if you go out during the day. At night you can wear you best summer clothes, and go out to places I mentioned below. 
Where to stay in Guayaquil?
Hotel Del Parque
Wyndham Guayaquil, Puerto Santa Ana
Radisson Hotel Guayaquil
Grand Hotel Guayaquil, Ascend Hotel Collection
Oro Verde Guayaquil
What to see in Guayaquil?
Las Peñas Neighborhood
This beautiful neighborhood is more than 400 years old, Las Peñas took its name from the cliffs and limestone rocks that formed the Hill back then when the Spanish settled in the XV century. In 1982 the neighborhood was declared Cultural Heritage of Ecuador and between 2002 and 2008, the place was restored and regenerated by the Municipality of Guayaquil.
At the north end of the Malecon is a hill with old, colorfully painted buildings. Walk the 400 steps to the lighthouse at the top for excellent views of the city. The neighborhood is filled with cafes, bars, restaurants, and art galleries. It's especially fun on a Friday or Saturday night and is relatively safe.
Also personalities from politics, business and culture lived in this neighborhood, among them, a lot of Presidents of the country as well.
Parque Histórico de Guayaquil
Squares & Parks
Civic Square
La Merced Square
Honor or Symbol Square
Olmedo Square
San Agustin Park
Victor Emilio Estrada Park
Must see museums in Guayaquil
Municipal Museum of Guayaquil (Heritage)
Anthropological Museum of Contemporary Art (MAAC)
Museum of Cocoa and Chocolate
Presley Norton Museum
Where to eat and drink in Guayaquil?
Thanks to my friend Ade, as well as her friends– I could visit Guayaquil's best food and drink spots. Here is a list of my favourite places where you can eat great food.
La Central (Luzárraga y Panamá)
La Central is the place in Guayaquil you should visit, before starting to explore the city. The talented chef Gabriela Cepeda, creates delicious and unique dishes full of flavor. They offer an amazing breakfast menu, classic and signature coffees, as well as refreshing cocktails and perfect fresh juices. Try their iconic Rice with Kimchi and fried eggs, as well as their amazing veggie burger.
My absolute favorite cafe in town, serves the best coffee and a great breakfast menu. Try the traditional Tortilla de Verde, fresh green juice and their Açai bowl.
Right next to La Central, La Cevichevere has the same owners but this location offers a different menu. Try the best red crab ceviche in town!
Pizza Libre (Urdesa Central, Circunvalación Sur 111b)
For the best pizza in town, Pizza Libre is the place. I loved the pizza margherita here!
For fine dining, Mikka is an expensive but elegant place where you must be prepared to have a luxurious dining experience. Creative dishes, great flavours and high quality products.
Comal Taquería (Urdesa Central, Guayacanes y la 5ta)
If you love Mexican food, then you should visit Comal for tacos, cocktails made mostly with tequila or mezcal.
A great cocktail bar, which offers a large cocktail menu as well as snack menu.
Masamadre (CC. Bocca, Km 1 vía a Samborondon)
A wonderful brunch/lunch spot in town. You can find the best croissants and other French pastries here.
Sailor Coffee (CC Las Terrazas, CC La Vista de San Eduardo)
Also another favorite breakfast cafe in Guayaquil. They offer a large menu of breakfast classics and fresh bowls. Loved their coffee variations, like lavender coffee, matcha latte or Golden Affogato (two shots of espresso, a scoop of ice cream and gold leaves).
When is the best time to visit Guayaquil?
Since the rainy season starts from February, the best time to visit Guayaquil is between June to November.
Save This Post For Later On Pinterest:
All photos (c) DisiCouture
*This post is 100% not sponsored
Ecuador
Guayaquil
Guide
Lifestyle
Travel